"Green area" around Marseille Chanot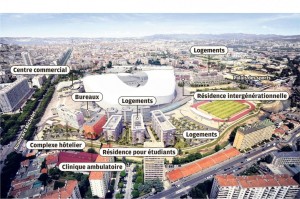 "Maybe one day we should give it a name", wrote the La Provence daily newspaper recently about the district around Marseille Chanot and the new Stade Vélodrome. The development project for the area surrounding the Stade Vélodrome was designed by Marseille architect, Didier Rogeon, with a total surface area of 100,000 m2 in two key areas:
Rue Teisseire: a cross-generational residence with 43 apartments for senior citizens and 90 student flats has just opened, and 4 apartment rental buildings are still under construction;
Huveaune: 12,000 m2 of office space, 196-bed student residence, 2 apartment buildings with a total of 210 apartments, and 2 hotels (4* Marriott and 2* B&B) are under construction.
These two hotels are great news for Marseille Chanot events organisors, and will add to the hotel availability nearby, which already boasts around 900 beds.
A shopping centre will also be built and is set to open in October 2017. Until recently, the operating company was blocked by ongoing legal action, but has just been granted a commercial licence and planning permission. In addition to a seven-storey underground car park (800 spaces), there is 22,000 m2 of retail space with around thirty shops planned, including the flagship store, Les Galeries Lafayette.
Procedures are currently underway to have the area officially recognised as Marseille's first eco-district, on the basis of "varied uses, solar panel roofs and the loop heat pipe created at the sewage treatment plant", explains Anne Villar, Director of the Provence-Alpes office of GFC Construction, which is in charge of project completion. The expert committee will give its answer in late 2015.