Marseille receives the "European city of the year Award 2014"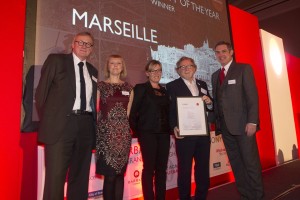 The Academy of Urbanism in London and a panel of 500 urban specialists have just named Marseille European city of the year. This prestigious prize, created in 2006 and generally referred to as the Urbanism Awards, brings together the main players in European architecture.
The City of Marseille hosted the Academicians in September 2013. A technical team gave a general presentation on local urban development issues and strategies, and organised tours of the city's key sites with specific relevance to city
planning issues, like the city centre and the "Grand Centre Ville" development, or the Euroméditerrannée site. As one of the three finalists for the "European City of the year AWARD 2014" category, representatives of the City were invited to London for the final stage of the selection process and a final question and answer session with the Academicians, where it was awarded the prize over Malmö (Sweden) and Istanbul (Turkey).
The Academy of Urbanism was created in February 2006 in order to take urban issues beyond the confines of city planning and create a competent, autonomous, politically independent and self-financing authority. The Academy and its President, Kevin Murray, promote awareness and involvement in urban development by running a design and research grant. The institution serves as an exclusive forum for dialogue around all associated disciplines, sharing knowledge within the community and its peers. The institution encourages big cities by recognising and rewarding excellence in success. Through the Urbanism Awards, the Academy is developing a database of the best case studies of large cities, districts, streets and squares which will then be used, together with other case studies, to improve teaching and understanding of best urban development practice.
This prize is a worthy reward for Marseille which has now grown into a major European city thanks to its new urban, cultural, economic and tourism developments. The success of Marseille Provence European Capital of Culture 2013 has made a significant contribution to its progress, which is set to continue into the future!
For more information visit http://www.academyofurbanism.org.uk/urbanism-awards-winners-announced/